Saturday, September 29, 2018
BAND TOGETHER FARMERS CONCERT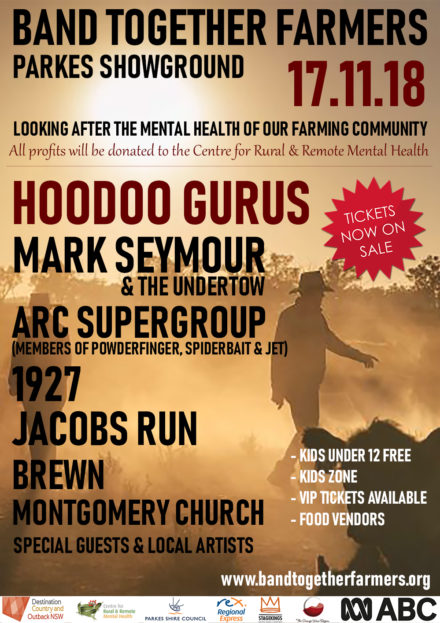 We're excited about playing in PARKES, NSW on SAT. 17 NOVEMBER to raise money for mental health services in the bush. The terrible drought has put even more stress on our rural families than usual and they need all the support they can get.
We played another charity event for the BAND TOGETHER people earlier this year (to benefit the victims of last summer's bushfires in south-eastern NSW) and it was one of the most enjoyable, best-organised concerts we have ever been involved with – and we've played a lot of festivals in our career. Everyone there had a great time and, even better, it also raised a ton of money for a very good cause. This concert will be benefitting The Centre for Rural and Remote Mental Health (CRRMH). If you need help now, follow this link.
Apart from HOODOO GURUS, rock legend MARK SEYMOUR will also be performing, backed by his band THE UNDERTOW. Also on the bill there will be a rock "supergroup", featuring members of POWDERFINGER, SPIDERBAIT and JET. There are a bunch of other great performers, including chart-toppers 1927, so it's gonna be a huge day and night. Tickets are only $69 and kids under 12 are free (VIP tickets are also available for $129).
Get your tickets here.